Well Hello Everyone!
Happy New Year!
I hope everyone brought 2013 in fabulously and I hope that your resolutions are sticking and lead to a happier life for you.
Today is Review Monday and Weekend Recap.
The Review part will be me giving you my review on something. The "something" is not limited. It can be a movie, tv show, cd, song, book, makeup, world news, pretty much anything.
My Review
Today I would like to give my review on the book "Night Circus" by Erin Morgenstern.
It was a best seller in 2012 and I can see why. Even though it was difficult to follow at times, it was beautifully written. It made E.L James look like a total amateur. The vocabulary was huge and the words flowed well together.
The main story line of the book is that there is a competition between two students who have been taught a very impressive version of magic. The circus comes into play as the venue of the competition. The opponents are oblivious at first of who each other are and that the circus serves a purpose but they do eventually figure it out an try to find a way around the only way to win, which is death.
You find yourself falling in love with all of the characters and wanting more of their individual stories.
It slowly grows into a beautiful love story and makes you wish that you could attend the night circus. I highly recommend it. If you are a slower reader and/or get lost easily, it is probably not for you.
Now the Weekend Recap part.
Weekend Recap
This weekend we had our first "party" at our new house. We had a few close friends over to watch the Texans playoff game. We had delicious bar-b-q and lots of wine. Ok, well I had a lot of wine!
After the game we hooked up the XBox Kinnect that I got for Christmas and played Wipeout and Adventures. It was a ton of fun but a slight cardio workout! I definitely sweated out my Moscato!
Sunday we watched my team, the Colts, lose their spot in the playoffs. I am totally ok with that though because this year was so much better than last year and exceeded everyone's expectations. I can't wait to see how awesome we are next year!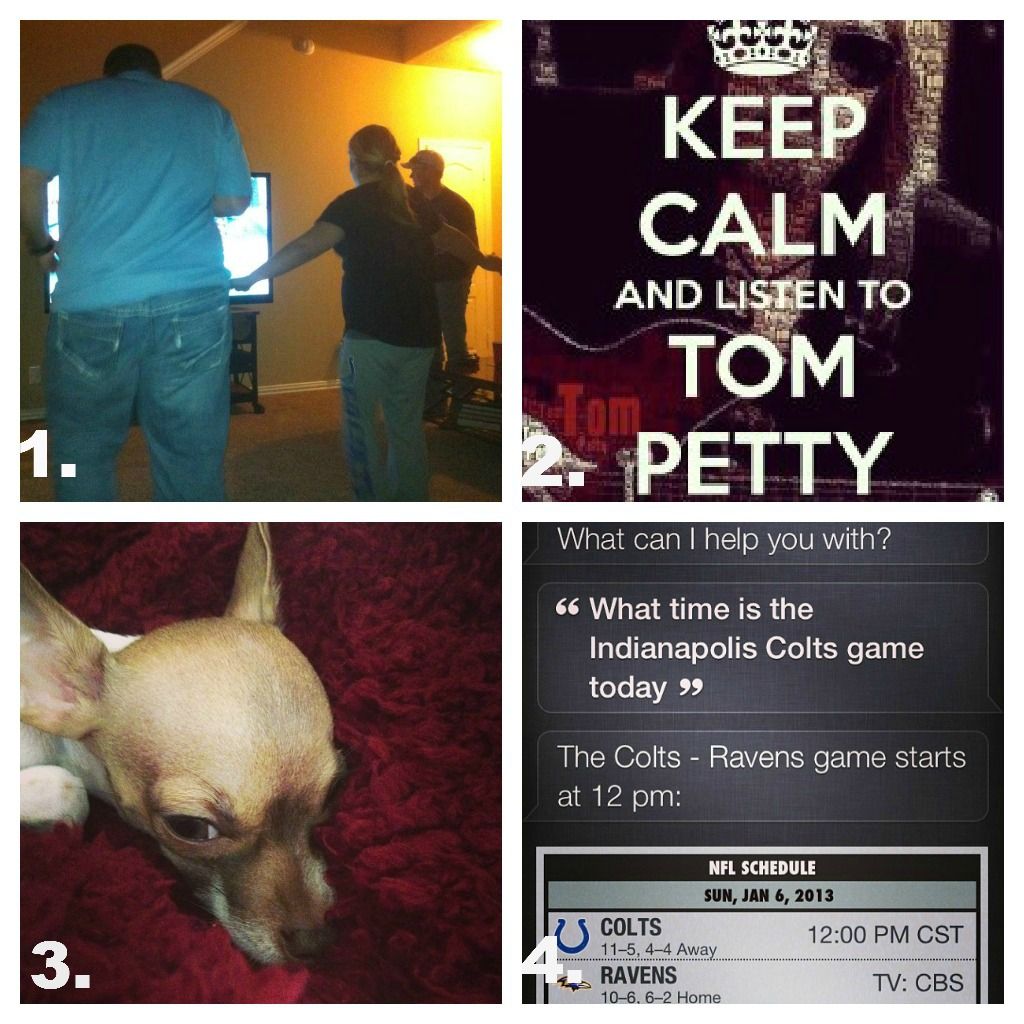 1. Our friend Blake and I playing Wipeout on Kinnect
2. An awesome picture Tom Petty shared on facebook over the weekend
3. Suzy after the Colts, slightly bummed
4.Getting reassured by Suri when the Colts games

Be sure to follow me on Instagram and Twitter. I am always posting things. djoyh
Also, the etsy store is still up and running! Check it out!
love.